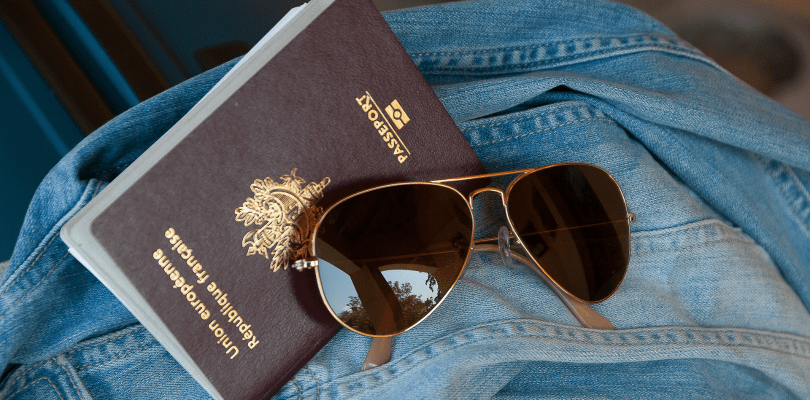 You Can't Leave The Country Without A Passport
It's not a secret that in order to leave the country, one must have an updated passport.
This is common knowledge. I'm not telling you anything you don't already know.
The night before my families epic European vacation, my husband had finally come home after working over twelve hours, day after day. He was tired and still had to pack. He retrieved the passports from their hiding spot and I knew it wasn't good news when I heard the words, "Oh Shit."
I was sleeping, or trying to sleep, and had on my earplugs and eye mask. I take sleeping very serious and knew Jon would be home on the later side. We were going out of town for almost five weeks, and unprecedented length of time for our family, and he had been burning the midnight oil at work for weeks. This had all seemed like a pipe dream, months ago, when my husband came home one day and said, "All the partners at my office met and we decided each year one of us can take a six week vacation. Since I'm the oldest, we get to go first."
We had dreamed and planned and dreamed some more, until our Europe trip was finally here. Jon was ecstatic to have this much time off and we tried to explain to our teenage daughters what a luxury this was. How he wouldn't have this much time off again until his retirement.
I was all packed and ready to go, trying to get a decent night's sleep while managing my excitement. Five weeks is a long time to go out of town and there had been a lot of details to organize. I'd managed to finish my long list and was sound asleep when I heard the "Oh Shit."
"Dara, wake up," Jon was saying to me, "We have a problem."
I couldn't imagine what type of problem we could be having. I'd paid the bills, picked up all the drugs my neurotic family wanted to take over the big blue ocean, cleaned out the refrigerator and took care of the dog.
"What is it," I said, half asleep, half annoyed, half hearing what was being said since I still had my earplugs in my ears.
"I'm pretty sure our passports expire in three days."
I sat up. Eye mask off. Earplugs out.
"What did you say?"
"Yep, our passports expire in three days. I must have looked at the girl's passports when I checked to make sure all was good and assumed ours were fine as well. They aren't."
Here's the thing, you can't leave the United States unless you have a passport that's good for at least six months past your departure date. Yep, we were in trouble.
I didn't yell. I didn't react. We went into crisis mode. It was a simple mistake and I could have easily made the same one.
Jon made a ton of calls, looked online, called the airlines and it was decided that we would take our original flight to New York City, and visit the passport office there. The office there is able to issue passports quickly, as long as you have proof of plans to leave the country.
But, it wasn't easy.
A shout out to American Airlines for not charging us anything to change the tickets. We ended up spending a night in New York, instead of taking our original flight to Scotland, and took a flight out the next day. We could have been hit hard with fees for having to change our tickets, but luckily we weren't.
My husband took care of everything. He woke up early, waited in the passport line starting at 6:30AM, and filled out all the necessary paperwork. It was a few hundred dollars to get everything we needed, but his pride was hurt more than anything. "I could have done the same thing," I kept trying to tell him, "This could happen to anyone." In fact, it happens to more people than you think, because our hotel, which was located next to the passport office, was full of people who were facing the same issue we were.
Fortunately, we were able to get the new passports and that evening, at 7:00PM, we were on our way to Scotland. Our European adventure was starting. One day late, with a funny story to share.
Your takeaway: Don't let your passports expire, ever, and make sure they're up to date before you have plans to leave the country. And, if this does happen to you, don't freak out. With a little inconvenience, you can get it fixed and be on your way. I'll have more stories to share from our European adventure coming soon.
Find meaning each day,
Dara
Get a Free Gift When Purchasing "I am my Mother's Daughter"
EXCLUSIVE 21-Day Sharing Journal downloadable print
EXCLUSIVE 21-Day Mother Child Journal downloadable print
The 3 Types of Letters downloadable print
Write a Letter Template downloadable print
The Happiness Contract  downloadable print