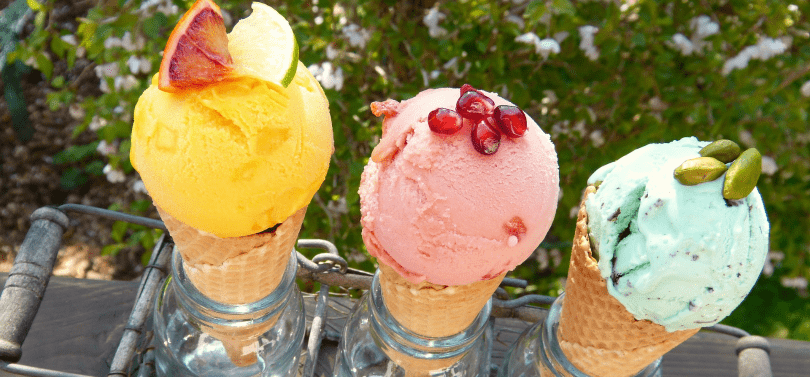 European cuisine is special.
Fabulous.
Incredible.
After spending five weeks in Europe, I have a lot to share with you. And, one of those things has to do with the food. It was almost too good to be true.
There's truly nothing like European cuisine.
I have to admit, before we left on our trip, I was a little concerned about how much food we would be eating. Because, I knew how amazing the food would be and how I would have an "I'm on vacation" attitude.
I knew the food in Europe is something to experience and I wanted to experience it all.
In fact, if I'm being completely honest, I was so concerned about the quantity of food I would be eating I had my personal trainer come up with two programs I could do in my hotel room, just to make sure things didn't turn ugly. I didn't want to come home, after five weeks in Europe, with a lot more of me. By the way, I did one of his programs once! Shh, don't tell.
Happily, my clothes still fit and I didn't hold back at all. I literally ate my way around Europe, and I'm going to share with you the highlights.
Preorder I Am My Mother's Daughter and receive the heartfelt gifts now!
It's worth noting, many years ago I ate a gluten free diet. Not because I have a gluten intolerance. I had decided it was a good way for me to eat and during that time period, on a trip to Europe, I maintained my gluten free eating. I didn't eat one delicious scone, croissant, pizza or bite of pasta.
This time, things were different.
It would be impossible to talk about the food in Europe without mentioning bread.
The breads are incredible. They're spectacular. It makes me think, "Why can't we have bread in the United States that tastes as good as in Europe?" I don't understand this. If you know the answer, please share.
The fresh breads are everywhere. We ate croissants for breakfast, scones for snack, biscuits (which are delicious cookies) for afternoon tea. The sandwiches are also everywhere and are incredible. You can grab a mozzarella tomato and basil sandwich on crusty bread for around $5.00 and it's the best sandwich you've ever had. Seriously. If that's not your thing, don't worry, there are many other sandwich options to pick from.
In Italy, I was overwhelmed with the pizza and fresh pasta. I couldn't get enough. In fact, we took a cooking class on how to make fresh pasta and I'm sure I'll be sharing this with you, one of these days. The only ingredients we used to make the fresh pasta were flour and eggs. But, the flour is a special kind, called 00 flour. Since I don't really shine in the cooking department, I have no idea what 00 flour does. All I can say is, it was delish.
The quantity of cheese my family consumed over the past five weeks isn't something I'm proud of. Let's just say, no one around here is getting a cholesterol reading anytime soon. From pizza to daily mozzarella and tomato plates to fondue, we ate it all. Every last delicious morsel of it.
The produce at the outdoor markets was beautiful and we enjoyed getting to taste this in almost every country we visited. What really stood out in my mind was that while we were eating a ton of carbs, we were mostly eating fresh food. Real food. Food that was made from scratch. It wasn't food out of a box, tossed into a microwave or food that had an expiration date years from now.
And then, there's the gelato. It's heavenly. Again, I don't understand why we can't have gelato in the United States that tastes as good as in Europe. My favorite flavors were Mint and Euro Yogurt and towards the end of our trip, I was actually eating it two times a day. I had to maximize my time, right?
The beverages are also worth mentioning, of course.  From beer, wines, coffee and teas, more deliciousness. We went from country to country, meal to meal.
I guess you could say we ate our way around Europe, enjoying the European cuisine.
Here's the good news, since we were walking everywhere, an average of five to seven miles a day, guess what? It didn't matter that we were complete foodies. In fact, I've never felt better.
Find meaning each day,
Dara
Get a Free Gift When Purchasing "I am my Mother's Daughter"
EXCLUSIVE 21-Day Sharing Journal downloadable print
EXCLUSIVE 21-Day Mother Child Journal downloadable print
The 3 Types of Letters downloadable print
Write a Letter Template downloadable print
The Happiness Contract  downloadable print