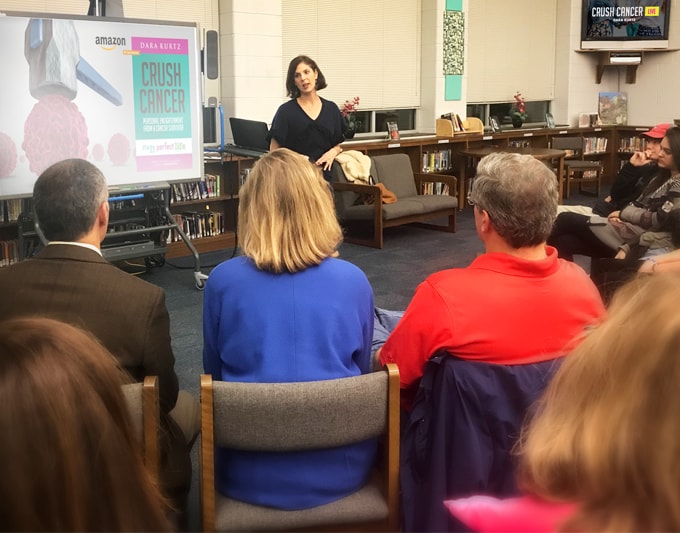 Notable Engagements
Speaker, The Thrive Retreat, The Art of Living Retreat Center
Speaker, Wake Forest Medical Center Oncology Forum
Speaker/Instructor, Crush Cancer Workshops
Speaker, Survivor Soul Project
Speaker/Instructor, Junior League of Winston-Salem
Panelist, North Carolina Bookmarks Festival
Speaker, University of Alabama Nursing School, Sponsored by Komen of North Central Alabama
Pink Ribbon Talks, Cancer Services
Speaker, Forsyth Country Day School, Book Festival Author Speaker
Available Presentations
The Crush Cancer Workshop - This is Dara's signature workshop. Written and developed by Dara, this 6 module workshop teaches cancer survivors how to thrive after cancer.
How to Thrive Once You Survive - Dara teaches how to live life after a cancer diagnosis and make peace with the fact that it happened to you.
How to Make the Most of Your Crazy Perfect Life - Dara shows how to make the most of each day of your life, let go of traumas in the past and look to the future with optimism.
What We Think, We Become - Dara talks about the power of positivity and the impact it has on a person's life
When You Think the World Hates You - Dara shares tips, tools and techniques for enduring through difficult times.
Please complete the form below to inquire about Dara's availability for your upcoming event

You will be contacted by Dara or a member of our team within 48 hours. Thank you!

---