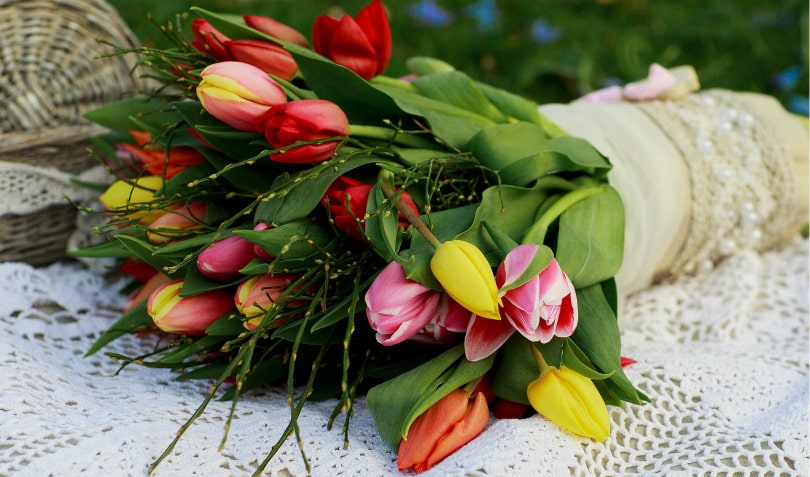 I'm sure you buy gifts for other people, but do you ever buy yourself a gift?
A "just because" gift, to nurture your soul and bring joy and happiness to yourself? We do so many nice things for other people, but often we don't take the time to show love and kindness to ourselves.
As I was walking through the grocery store recently, I made sure to grab a beautiful bouquet of flowers. They were tulips, my favorite, in an assortment of colors. I took a moment to think about which colors I liked the best, and finally decided on a mixture of all the colors. At the checkout lane, the woman bagging my groceries commented, "What beautiful flowers, who are they for?"
"They're for me," I said, "I like to buy myself a little treat each week."
She looked at me, smiled, and said, "That's nice."
I could tell she thought I was a little crazy.
"Do you ever buy yourself a special gift?" I asked her.
"No," she said, "I've never thought about it before."
"Consider trying it," I said, "I think it will make you feel good."
Buying yourself an inexpensive treat each week, isn't something overly extravagant or frivolous.
It's a way to honor and be good to yourself. You can purchase an inexpensive bouquet of flowers at the grocery store, for under ten dollars. I think I'm worth ten dollars! And, guess what? So are you. You probably do nice things for other people, but don't forget to do something nice for yourself.
For minimal output, I'm getting daily enjoyment.
I like to keep flowers in my kitchen, which tends to be where I spend a large majority of my time. It's fun to pick them out, bring them home, and arrange them. I might not do the best arranging job, but I don't care. I'm not trying to impress anyone. Instead, it's all about feeling special.
It's a gift I give myself.
One you can also give to yourself. Figure out a weekly treat that will bring you joy and happiness, and commit to getting yourself a little gift each week. It might be a snack, candle, lotion, or special tea. It's different for everyone, but the outcome is the same
The next time you go to the store, in between picking out your regular weekly items, buy a gift for yourself.
I'm giving you permission to spend a little money buying something you usually don't buy, just for you. Be intentional about this, and have fun with it. Remember, it also doesn't have to be the same item each week.
For me, I think it's nice to bring something beautiful into my space. Experiment, until you find your bouquet of flowers. I know it will put a smile on your face and make you happy, just as a beautiful bouquet of tulips makes me happy each time I walk into my kitchen.
Go ahead, spoil yourself a little bit. You deserve it, don't you think?
Find meaning each day,
Dara
Get a Free Gift When Purchasing "I am my Mother's Daughter"
EXCLUSIVE 21-Day Sharing Journal downloadable print
EXCLUSIVE 21-Day Mother Child Journal downloadable print
The 3 Types of Letters downloadable print
Write a Letter Template downloadable print
The Happiness Contract  downloadable print