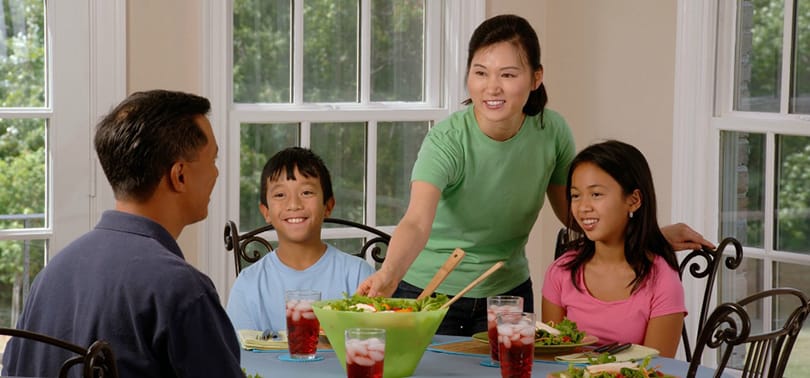 Order A Damn Pizza And Eat Dinner With Your Family
It's important to take the time to eat dinner with your family.
We're all busy. I know. I get it.
At the end of the day, if you're like me, the last thing you want to think about is what to make for your family for dinner. I find dinnertime to be an especially challenging time. My kids are tired, my husband is exhausted and everyone is hungry. The kids have homework, there might be an evening meeting someone has to rush off to and no one has a lot of time.
The combination of tired and hungry people coming together doesn't bring about harmony.
But, here's the thing: most experts would agree that eating dinner as a family, around the dinner table without electronics, is incredibly important. Establishing this ritual, and sticking with it, can have a profound benefit on the relationships you have with the members of your family.
Taking time at the end of each day to chat about your individual experiences and share what you've done is important. It allows you to connect with your family and talk to the people you love the most.
If you like to cook and enjoy making beautiful fancy dinners, more power to you.
If you're like me, and making dinner is a painful experience, then just order a damn pizza and be done with it.
Eating dinner with your family isn't really about the food you serve. It's actually more about the conversations you have with one another. Sitting down at the end of the day with your loved ones will strengthen your relationships. It's often where my kids tell us what they have going on in their lives and share funny stories about their day.
Preorder I Am My Mother's Daughter and receive the heartfelt gifts now!
We talk.
We laugh.
We listen.
Recently, one of my daughters had a friend stay for dinner. We were eating leftovers and it wasn't anything fancy. Who am I kidding? It's actually never anything fancy.
"Wow," our guest said, "We never sit and eat together at my house."
"You don't?" I asked, "What do you do for dinner?"
"Everyone just grabs food when they're hungry."
"Do you ever eat dinner with your family?" I asked her.
"No," she said, "Everyone eats at different times or my parents are busy doing their thing."
My husband and I just smiled at each other and said she was welcomed anytime at our home. It made me a little sad for this teenage girl. To think she rarely sits down with her parents or gets to spend time eating dinner together with her family…
She had a wistful expression on her face and I wanted to give her a hug. Later that evening, of course, I didn't miss the opportunity to tell my kids how lucky they are to get to eat dinner each night with their tribe.
"It's not about the food," I told them, "It's about us being together."
"We know," my daughters said, "But, it could be a little more about the food. You could step it up a little, we're just saying."
If you don't have the ritual of eating dinner together with your family, I encourage you to think about starting this. Even if it's just one night per week. I know you're busy and everyone has different schedules.
Just try it. Start this week.
I think you'll be glad you did.
Find meaning each day,
Dara
Check out this recent Huffington Post article, Saying Goodbye to a Pet Can Be Hard
Don't miss a post, sign up here to follow Crazy Perfect Life
Get a Free Gift When Purchasing "I am my Mother's Daughter"
EXCLUSIVE 21-Day Sharing Journal downloadable print
EXCLUSIVE 21-Day Mother Child Journal downloadable print
The 3 Types of Letters downloadable print
Write a Letter Template downloadable print
The Happiness Contract  downloadable print