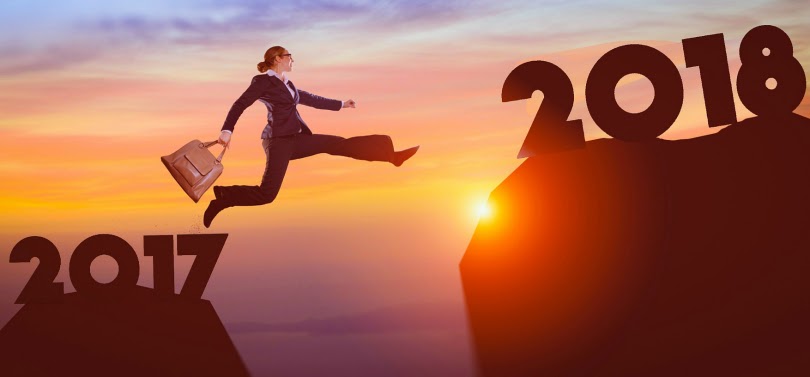 A New Year, A New Beginning
It's a new year, a new beginning.
I hope you had a grand year. I hope it was all you desired it to be and more. I hope your dreams came true and life was good to you.
If it wasn't, I'm sorry.
If you faced hard challenges, difficult situations or very stressful experiences, I'm sending you a great big hug. I've had years where it felt like I was barely hanging on and I couldn't wait for the year to be over with.
Regardless of how 2017 played out for you, shortly you will have a new year.
A new beginning.
Another shot at starting over, creating the life you want, reaching your goals and realizing your dreams.
This can be exciting, if you let it.
I'm optimistic about 2018 and all the wonderful things I look forward to doing. I have big dreams and epic plans, and I'm not going to let anything slow me down or get in my way.
Did everything happen exactly the way I wanted it to materialize in 2017? Of course not, but that's OK. I'm learning from my mistakes, taking note of what worked and what didn't, and moving onward.
Stronger. Wiser. More Prudent.
I'm not dwelling on what didn't happen. I'm not drowning my sorrows in what didn't work. Instead, I'm focusing on the positives, celebrating my accomplishments, feeling thankful for what I have.
I've learned to feel grateful, even in the most challenging years.
Sometimes, we hold ourselves back. Not on purpose, but subconsciously. Instead of having faith that things will work out the way we desire, we sabotage ourselves through our negative thinking. We manifest what we actually don't want. I know this is true because it's happened to me.
Decide right now to learn from your mistakes of 2017. If you're feeling guilty or worried about something, let it go. Whatever didn't go the way you had hoped or planned, learn from it, make peace with it and move on. Look forward with hope and positivity.
What if 2018 was your best year yet?
What if your dreams came true?
What if you accomplished your goals?
Start thinking about 2018 with excitement and optimism. It can be a great year, if you let it.
I hope you take some time off from your normal routine, over the next few days, to give yourself the opportunity to think about what you want your 2018 to look like.
How do you see if playing out?
What do you want to accomplish?
Who will you be spending your time with?
I encourage you to think through some of these questions. Take the time to intentionally identify a path you want to walk on. It's important to give yourself the space to imagine how your want the next year to play out. You wouldn't host a party without thinking about what the menu would look like. You wouldn't take a test without studying.
The same can be said about your life.
Don't just let 2018 happen. Instead, invest a little time and energy into making preparations for the new year.
You're worth it, don't you think?
Dream. Create. Design the life you want.
I'll be back in January, ready to share lots of new and exciting things with you. I'm working on some amazing projects right now and I can't wait to tell you all about them.
I wish you and your family a wonderful, safe and relaxing Happy New Year!
Find meaning each day,
Dara
Get a Free Gift When Purchasing "I am my Mother's Daughter"
EXCLUSIVE 21-Day Sharing Journal downloadable print
EXCLUSIVE 21-Day Mother Child Journal downloadable print
The 3 Types of Letters downloadable print
Write a Letter Template downloadable print
The Happiness Contract  downloadable print