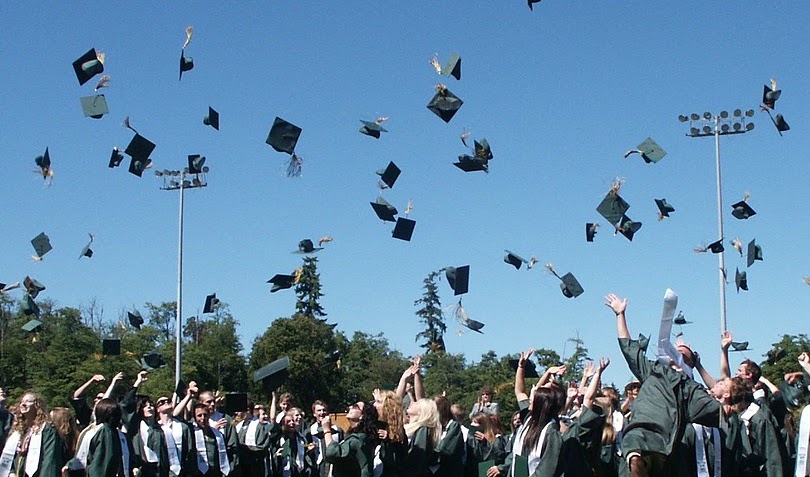 To My High School Graduate
It's graduation season.
There are pictures all over social media right now with students graduating from college and Kindergarten and everywhere in-between. It's an exciting time, and I love seeing all the smiling and happy faces in pictures being shared by proud friends and family members.
Many comments such as "What a beautiful picture" or "I can't believe she's graduating" to "Where did the time go?" seem to be the normal responses on many of the pictures being shared.
This year, we have a graduate in our family. My oldest daughter, Zoe, is graduating from high school and is going off to college in August.
I've know this day was coming for the past eighteen years, and now that it's finally here, while it is hard to believe, my reaction isn't exactly what I expected it to be.
I'm sure I'll openly cry when I hear the music start at the graduation ceremony, when Zoe and all of her classmates walk in wearing their caps and gowns. I'll feel the bitter sweet feeling of the moment and all it represents.
But, instead of focusing on the ending, I'm embracing the new beginning. I'm excited for all that's to come, this new chapter in her life, and ours. I am ready to see her move forward. I know there will be more tears to come, especially when it's time to say "goodbye" when we take her to college, but right now I've got a few things to say to her.
Preorder I Am My Mother's Daughter and receive the heartfelt gifts now!
Here are some things I want to say to my graduating daughter, and maybe to your graduate as well:
It's Time to Own Your Choices
It's time for you to own your choices, completely and fully. You get to figure out what your dreams are, not my dreams or anyone else's dreams, and go after them. Hard. However, with this freedom and privilege comes responsibility. The stakes are higher now. Don't worry if you don't have all the answers right now, you aren't suppose to. Take the time to ask questions, expose yourself to things you might be interested in and give yourself the permission and grace to explore them. If you don't like something, change it. Instead of complaining or focusing on what isn't working in your life, figure out a way to make it better. It's all on you now.
Don't Let Fear Hold You Back
This is a big one. We all get scared sometimes. Especially, when we do new things, and going off to college can be scary. That's OK. Don't let fear get in the way of holding you back.  Even if you're a little scared, push yourself forward. Let yourself get out of your comfort zone and have new experiences. Do new things, meet new people and go to new places. Remember, growing pains aren't always comfortable.
Be Smart
Please. Be. Smart. I'm not talking about your grades, although it might be a good idea to work really hard at your academics. Grades do matter. But, I'm talking about taking care of yourself. Since I'm not going to be able to make sure you're eating healthy foods, looking out for your body and making choices that are good for you, you have to promise me you will be smart. Be intentional about where you go, who you go with, and don't put yourself in situations you might regret. Don't ever get pressured into doing something you don't feel good about. Trust your gut and respect your body. Don't be afraid to walk away from situations that go against your beliefs, even if it makes other people angry.
You're going to have a lot of fun in college, but you have to pay attention. If you go to a party and put a drink down, get a new one. If you leave the library, or anywhere else late at night, don't walk alone. Travel with a group of friends and look out for one another. Don't get into a car if the driver has been drinking. Don't take chances with your life. Ever. One stupid mistake can impact your beautiful future.
You Are Who You Hang With
Going to college is a time to make new friends. You get to start over, meet new people from different places, and find a new tribe. This time, you get to pick your friends all by yourself. I'm not there to schedule playdates for you.  Just choose your friends wisely. You are who you associate with and your friends will have a significant impact on your college experience. Be with people who make you feel good about yourself. I know you're amazing. Make sure your new friends know that and accept you for who you are. Be yourself and remember, not everyone is going to like you. If people don't like you, they aren't your people. It really is that simple. You'll know when you find your tribe because it will feel like coming home. It might take a little time to find your people, but don't worry, you will.
Be Grateful
Here I go again with the grateful thing, but it's important to be reminded of how lucky you are. You are blessed to have this experience. Not everyone gets to go to college. Don't take it for granted. Instead, make the most out of it while appreciating how fortunate you truly are. There will be days when things don't go the way you want. You might get a bad grade, have an argument with your roommate or feel overwhelmed with deadlines. Keep it all in perspective, trust yourself and know that you have everything you need to find a solution to whatever challenge comes your way. Even in those hard moments, and there will be hard moments, always remember to count your blessings.
Enjoy Every Moment
There are many adults who look back on their lives and say, "College was the most fun I ever had." Think about it, you're surrounded by your friends, living on or near a campus, engaged in the opportunity to learn about things that really interest you, and there are people paying your bills. It's one of the most freeing times in your life. The only thing you really have to worry about, for the most part, is yourself. Let yourself enjoy every moment the next four years (yes, you're on the four year plan) and make the most of every moment. Have fun but take it seriously and commit yourself to getting the best education you can get.
Remember Where You Came From
While you're starting something new and exciting, remember those you left behind. We're thinking about you, all the time, and cheering for you in the background. Don't forget to drop us a line (yes, we want to hear your voice not just get your text messages) and make time for us. Just because you're in college doesn't mean you have to go it alone. Let us be there for you, to help you when you have a problem or when you just want someone to talk with. Share your experiences with us, and be intentional about staying in touch with all the people who got you to this point. We raised you to care. Make sure your actions show us you do.
Happy graduation!
Love,
Mom
Get a Free Gift When Purchasing "I am my Mother's Daughter"
EXCLUSIVE 21-Day Sharing Journal downloadable print
EXCLUSIVE 21-Day Mother Child Journal downloadable print
The 3 Types of Letters downloadable print
Write a Letter Template downloadable print
The Happiness Contract  downloadable print