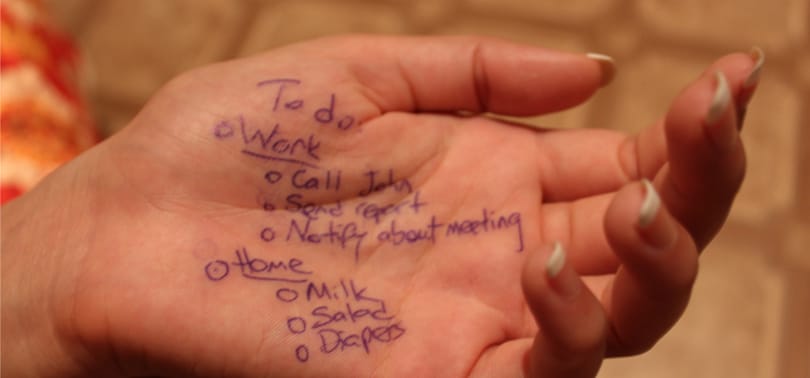 5 Items to Add to Your Week
Do you make a daily "to do" list? Are you the type of person who writes everything down so you don't forget your responsibilities?
Do you make the kind of list that consists of things like: go to the grocery store, pick up dry cleaning, buy birthday gifts?
I make a list because if I don't write something down, it might not get done. But, I don't make a daily list. Instead, I usually keep an ongoing weekly list and I try to knock everything off of the list by the end of the week. This gives me a little more time to get things done. Plus, if I don't want to do something, I've got a few days to procrastinate.
The best thing about keeping a weekly list is that it gives me a little more space to make sure I budget time for things I really want to do, not just tasks I need to accomplish. We all have the same twenty-four hour time period each day. You can fill your list with chores, commitments and errands, or you can make sure you also put items on your list that bring you joy and lift you up. Activities that feed your soul.
Here are 5 items I put on my "to do" list that I recommend you consider adding to yours:
Alone time
I didn't used to like being by myself, but the older I get, the more I need alone time. Time to just sit and do nothing. Time to write in my journal, think or take a nap. Even if I only have fifteen minutes of alone time, it makes all the difference in the interactions I have with my family. I find I'm a lot calmer and can deal with the chaos life might toss my way if I've had a little down time. Try it. You'll like it.
Time spent in nature
Spending a little time in nature is grounding. It recharges your batteries and helps you gain perspective. It gets you out of your world and lets you notice the beauty that's all around you. A short walk, sitting on a bench in a park or garden or watching the birds is a great way to spend time in nature. Especially when the weather is nice. Soak up some vitamin D and feel refreshed.
Time with friends and family
Make sure you make time each week to connect with the people you love. Even if you're too busy to spend a lot of time
with your kids or significant other, budget time to talk and connect. Listen to what's going on in their lives. Pay attention. Put away your technology and be present. Go out to dinner, have friends over for brunch or schedule a game night. Making the time to connect with friends and family will give you a sense of belonging. The older I get, the more I realize it's the people in my life that mean everything to me.
Time for a hobby
Whatever you love doing, make sure you give yourself  a little time to do it. Knitting, needlepoint, playing a musical instrument, gardening. Find something you love doing, and then make time to do it. Each week. It's amazing what happens when you give yourself a little space to focus on a hobby you really enjoy. It makes items on your "to do" list that you might not want to do a little less painful. When you know you have time to do what you want to do, you'll feel happier and more content. Who wouldn't want to feel happier and more content?
Time for your health
Take care of yourself. Eat well, exercise and get plenty of rest. It takes time to buy and prepare healthy food. Don't get caught having to eat junk because you didn't plan. Make sure you budget the necessary time you need to shop for and prepare healthy food. Figure out what you want to do for exercise each week and schedule it. This goes for doing something spiritual as well. Meditating, practicing yoga, going to church or temple. You can't live the life you want if you aren't physically and mentally healthy. Don't take your health for granted, ever.
The next time you find yourself making a "to do" list, think about the above items and figure out a way to add them into your life. I know you're busy, but you're never too busy to take care of yourself. You deserve it.
Find meaning each day,
Dara
If you enjoyed this post, share it on social media!
Get a Free Gift When Purchasing "I am my Mother's Daughter"
EXCLUSIVE 21-Day Sharing Journal downloadable print
EXCLUSIVE 21-Day Mother Child Journal downloadable print
The 3 Types of Letters downloadable print
Write a Letter Template downloadable print
The Happiness Contract  downloadable print