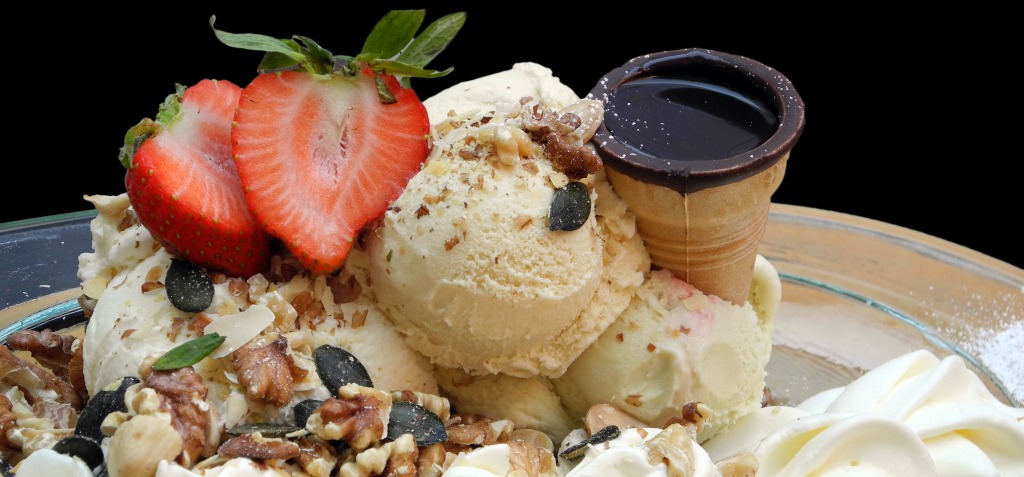 I like ice cream and I'm sure most of you do too.Who doesn't, right?
It's tasty and delicious, and often something I view as a treat. I don't usually eat it as my main meal. That's why, the other day when out to lunch with my family, I was intrigued by what was going on at another table.
It was around 12:15 PM on a Saturday afternoon, and we were sitting at our table enjoying our lunch, when another family sat down in the booth next to us. They were chatting happily and waiting for their lunch. It was the type of restaurant where you order at the cash register, and then the waitress brings you your food when it's ready.
It's not that I was trying to hear what this other family was saying, but they were talking loudly especially the adorable little boy who was talking about how hungry he was.
"I'm starving," he said.
"I'm sure our lunch will get here soon," his mom said. I knew he was with his parents because I heard him say "Mom" and "Dad" a few times.
We were eating salads and sandwiches, and enjoying our meal when the waitress brought the Mom her food first. It was ice cream. It wasn't just ice cream, it was a banana split. It wasn't just a banana split, it was a HUGE ice cream sundae. The waitress put it down in front of the Mom, and said, "I'll be back with more in a minute."
She then brought another ice cream sundae, just like the first one, and a smaller one for the child. One would have caused my kids to be jealous, but seeing 3 different ice cream treats was almost too much to take.
My kids looked over at their table with pure envy.
"Maybe they already had lunch," I said to my kids. I could tell they were pretty impressed at what was going on at the table next to us, and felt like they'd been cheated to be forced to eat a normal lunch.
They had food envy.
We finished our meal and said "yes" when our kids asked if they could get ice cream. How could we not, especially with the table next to us devouring their ice cream? And that's when I had to ask. I couldn't stand it anymore.
"Are you celebrating a special occasion?" I asked. I thought maybe it was a birthday, anniversary, or something exciting and special had happened.
"No," the Dad replied, "We were just hungry for lunch and thought we'd have ice cream for lunch today. Why not, right?"
I was speechless, which doesn't happen very often.
"How fun," I finally said, "What a neat thing to do."
My kids looked at me like they'd been screwed out of having cool parents.
In fact, I don't think we've ever gone out for a meal and gone right to dessert. I have to admit, it did look like a lot of fun. Their ice cream, with whipped cream and hot fudge with a cherry on top, seemed a lot more tasty than the salad I was eating.
Maybe I'll do something off the grid, change it up a bit, and deviate from the norm. We all get so used to doing things a certain way, it was a good reminder to me about how exciting it can be to act spontaneously. To do something different. There was a party atmosphere going on at the table next to us, and the three people were filled with joy.
I have a feeling we could all change it up every once in awhile. Look for an opportunity to deviate from your normal routine, and see if you don't just have fun doing it. After all, that's what life is all about.
As the Dad eating ice cream said, "Why not, right?"
Find meaning each day,
Dara
If you like this post, check out https://crazyperfectlife.com/a-chain-reaction/
BE ON THE LOOKOUT FOR MY FREE EBOOK COMING SOON!