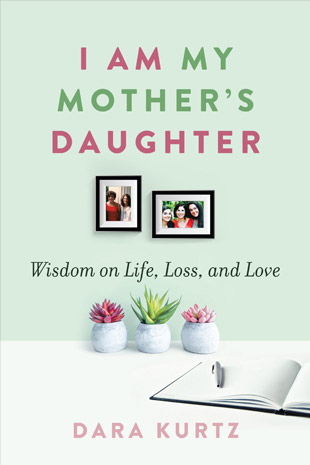 Wisdom on
Life, Loss,
and Love
For most of my adult life, I've had a ziplock bag containing letters I received, from the first time I went to sleep-away camp until I graduated from college. The letters were from my parents and my grandparents, but mostly from my mom and two grandmothers. I learned many lessons from these strong women, who have each passed away. Many times over the past years I've longed to talk with them and hear what they think about the life I have created for myself. Living in a world without them has been among the greatest challenges of my adult life.
Though I knew where this bag was, I didn't have the courage to open it and reread the letters. I was fearful that reading them would bring back the grief I had worked so hard to overcome.
Because of an unexpected occurance, I finally opened the bag. I was shocked by what happened next. Rereading the letters, after so many years, brought me unanticipated peace, love, and a renewed connection to my mom and grandmothers. I gave myself permission to let go of the sadness I'd been holding onto since their deaths, and the experience transformed my life.
As a mom of two daughters, Zoe who is twenty and Avi who is seventeen, I try to pass on family traditions and wisdom, weaving the past with the future, making sure my daughters know who they are and where they came from. I want them to know about the special women who loved and raised me, and feel proud to call these women their family. I've learned that leaning in to the past is best done through the lens of love, and as I unexpectedly discovered, through the handwritten word.
Claim Your Free Bonus Materials
After you purchase the book, use your receipt or order number in the form below to claim your bonuses. Be sure to claim your FREE bonuses by September.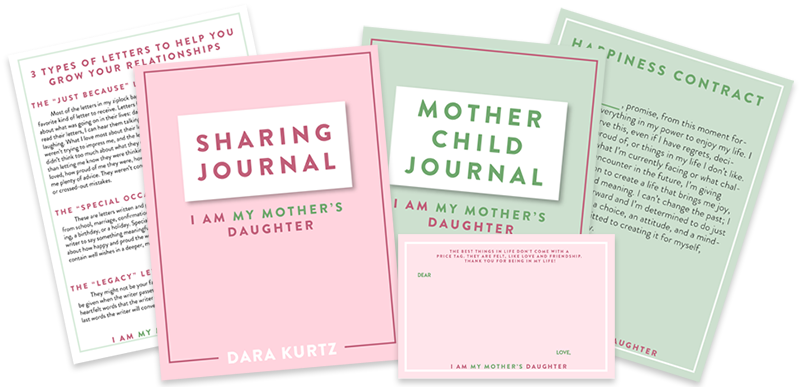 Purchase The Book and Receive...
EXCLUSIVE 21-Day Sharing Journal downloadable print
EXCLUSIVE 21-Day Mother Child Journal downloadable print
The 3 Types of Letters downloadable print
Write a Letter Template downloadable print
The Happiness Contract  downloadable print
5 Downloadable Tools to Grow Your Relationships and Connect
A $59 Value! This beautiful collection of tools was written from Dara's heart to help you connect to the people in your life and grow your relationships.
21 Day Sharing Journal to help you connect with the people you love. This can be used as many times as you would like to help you get to know the people in your life a little bit better.
21-Day Mother Child Journal to help Moms connect with their kids and encourage more open and honest communication.
The 3 Types of Letters You Can Write
Write a Letter Template you can use over and over again to make it easy to write any of the 3 types of letters.
The Happiness Contract you can sign to help you commit to making the most of each day of your beautiful life.
WHAT PEOPLE ARE SAYING...
"Readers will be moved to think with intention and purpose and make mindful decisions that can positively impact and strengthen their relationships for the rest of their lives."
Rachel Macy Stafford, New York Times bestselling author of Live Love Now, Hands Free Mama, and Only Love Today
"Dara isn't afraid to admit her mistakes or own her past. She shows us we can't be truly happy until we're honest and accepting of ourselves. This is both refreshing and inspiring."
Maimah Karmo, Founder of Tigerlily Foundation, Publisher of Bliss Magazine
"This book will help you take an honest look at the landscape of your life, what you truly want, and then help you figure out how to get it. It's the chance to hit the reset button."
Erin Falconer, New York Times bestselling author of How to Get Sh*t Done
"This book is full of relevant wisdom to help you grow your relationships and create the life of your dreams."
Lyndsay Morris, Founder of Generation Wellness
"Dara's life experiences have helped her learn to find meaning in her life and taught her what is truly important. For as long as I've known her, nothing has been more important to Dara than the relationships she has with the people she loves."
Garth Callaghan, author of Napkin Notes, and co-host of Thrive: The Podcast with Garth and Dara
"If you're ready to make changes in your own life and relationships, but you don't know how to start, this is the book for you."
Karin Hehenberger, MD, PhD, CEO, and Founder of Lyfebulb
"Reminiscent of spending time with your own long-lost relatives, Dara Kurtz's book is a beautiful story of love, loss and generational knowledge. This book and the stories in it are treasures for readers of any faith."
Catherine Pearlman, PhD, author of Ignore It: How Selectively Looking the Other Way Can Decrease Behavioral Problems and Increase Parenting Satisfaction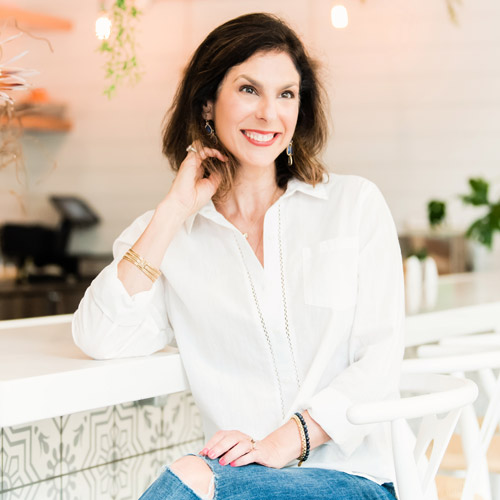 DARA KURTZ, after being diagnosed with breast cancer at the age of forty-two, left her twenty-year career as a personal banker and financial advisor to focus on writing, speaking, and podcasting. Today her personal blog, Crazy Perfect Life (www.crazyperfectlife.com), reaches over 180,000 followers. Dara is the author of two books, Crush Cancer: Personal Enlightenment from a Cancer Survivor and Crush Cancer Workbook. Dara's goal is to use her life experiences to help people strengthen their relationships and create more happiness and joy in their everyday lives.
You can follow Dara on social media and her podcast:
Social Media: Facebook: @crazyperfectlife, Instagram: @crazyperflife, Twitter: @crazyperflife
Podcast: Thrive: The Podcast with Garth and Dara. Part of life is facing and overcoming challenges. This podcast helps listeners overcome whatever challenges they might encounter.