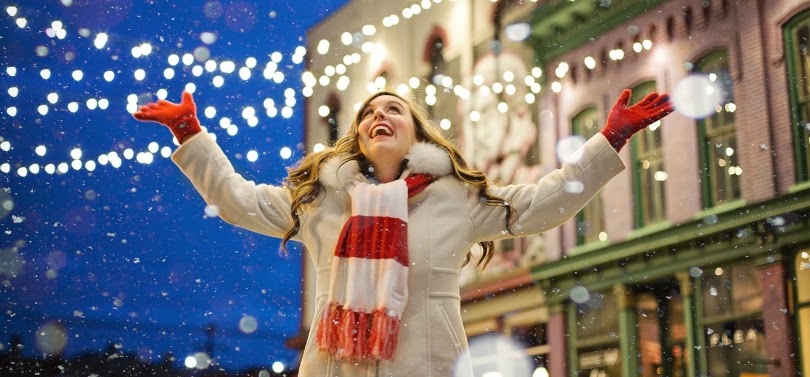 How To Survive The Holiday Season While Facing A Challenge
It's hard to feel festive and get into the holiday spirit when you're dealing with a challenging situation. If you feel like everyone around you is excited about the holiday season, and you can't wait until January, you aren't alone. I've met many people who feel this way. They can't wait to go back to "normal" life. If you find yourself wondering how you're going to survive this holiday season, hopefully the following suggestions will help you.
Here are 5 Ways to Help You Survive the Holiday Season:
Control what you can control.
You can't change where you are or what you're going through. It is what it is. However, you can actively decide to make the best out of whatever situation you're dealing with. If you have a health challenge, try to do what you can to help yourself feel better. If you have financial challenges, try to make the season about the people in your life, instead of focusing on material items. You can't control everything in your life, but you can control your attitude and what you think about. Help yourself. Decide to sport a good attitude. Commit to doing everything you can to accept where you are and help yourself move through it being as positive as possible.
Let go of negative feelings.
You might be feeling jealous of other people who seem to "have a perfect life." You might be angry or feel sorry for
yourself for having to deal with the situation you're facing. Self pity isn't going to serve you well. Of that, I am certain. Remember, there is always someone out there who has a better situation than you have and always someone who has it worse. Try to focus on the good in your life. Try to count your blessings, even in challenging situations. It will help you feel happier. Carrying around a bundle of anger isn't going to do anything but make you feel worse.
Do what you want when it comes to holiday festivities.
If you don't feel like going to holiday parties this year, give yourself permission to skip them. If you don't have the money or energy to decorate your home the way you typically do, give yourself a pass. Same holds true when it comes to gift giving. Do what you want to do, and give yourself a dose of grace when it comes to feeling badly about it.
Focus on self care.
You have to take care of yourself. Give yourself a large dose of being kind and caring to yourself. Write in a journal, take warm baths, meditate and relax. Treat yourself with kindness right now. Eat healthy, try to do a little exercise and read inspiring books that make you feel good. This might be a great time to focus on gratitude and commit to writing down three things you're grateful for each day. If you start to go down the "negative" path, and have a string of negative thoughts, try to redirect your thoughts to something that's positive and upbeat. There's not much a hot bath or cup of tea can't make better. I speak from experience!
Keep perspective.
When you're in the middle of dealing with a challenge or going through a hard time, it's difficult to keep perspective. However, you must remind yourself that where you are now, and what you're facing, won't be there forever. This time shall pass. You will get through it.
Preorder I Am My Mother's Daughter and receive the heartfelt gifts now!
Good times are coming.
Believe this.
Tell yourself this.
Expect good things to happen.
I hope the above suggestions help you, not only get through this holiday season, but assist you in making the most of this time.
Much love,
Dara
Get a Free Gift When Purchasing "I am my Mother's Daughter"
EXCLUSIVE 21-Day Sharing Journal downloadable print
EXCLUSIVE 21-Day Mother Child Journal downloadable print
The 3 Types of Letters downloadable print
Write a Letter Template downloadable print
The Happiness Contract  downloadable print