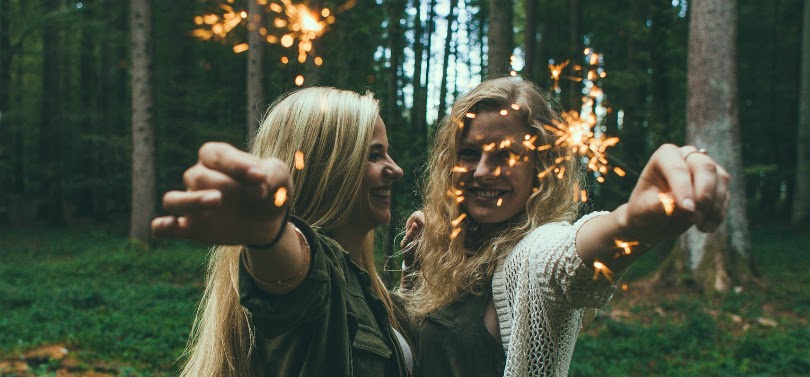 It's a crazy busy time of year. I feel like I'm being pulled in a thousand directions, and I'm sure I'm not the only one. I forgot how hectic this time of the year can be. A close friend of mine (name not mentioned because I want to stay close friends) was telling me how busy her schedule is right now. She said between work, activities, weekend sporting commitments and taking care of her family, she feels like she's lost her sparkle.
Oh no.
You never want to lose your sparkle!
At first, I couldn't stop laughing. This was such an adorable way to say she's tired, exhausted, and feels like the life has been sucked out of her. But, then I really started thinking about it. It's easy for all of us to lose our sparkle.
The daily stresses of life can cause us to feel off balance. When I feel off balance, I get grumpy. And, when I get grumpy, I tend to raise my voice, especially when my children don't listen. OK, maybe that was too generously expressed. When I'm grumpy, I YELL, which then makes me feel guilty. Then I stress about the permanent damage I'm causing my kids.
I'm exhausted just telling you about it.
We rush around like mad women, trying to be everything to everybody, but we don't have to live this way. Sometimes, we just have to take a step backwards, reexamine our lives and be willing to say enough is enough.
Do whatever you must, but don't lose your sparkle.
Preorder I Am My Mother's Daughter and receive the heartfelt gifts now!
I wish I had a special bag of pink pixie dust I could sprinkle on myself whenever life starts wearing me down. But, I don't, so here's what I recommend.
4 Ways to Reset Your Life So You Don't Lose Your Sparkle:
If you're feeling like you're close to the edge, you need immediate intervention. Send yourself to time-out in your bathroom, pour a glass of wine or cup of hot tea, and soak your troubles away in a bath or hot shower. And, make sure you lock your door. The last thing you need is for your significant other to think this is a joint activity. This is only about you.
Take a walk, go for a run or try to exercise for at least thirty minutes. It's amazing how good you will feel after sweating out your stress. And, burning calories is always a plus. Sometimes, all we need is to take the time to connect with our bodies. Especially, if we've been sitting for a long time, running around doing errands or driving carpool. It feels great to stretch, get the body moving, and invite in the positive endorphins.
Meet a friend for coffee or lunch, and tell her your woes. Things always feel better after you've spent time with a friend. It feels great to talk about whatever it is that's wearing you down and really helps keep things in perspective. It's important to have friends you can count on, who will be there for you when you need them.
Put on your jammies, order a pizza for dinner and give yourself permission to rest. When you feel exhausted, your body is telling you it needs to rest and relax. Listen. Put yourself to bed, catch up on reality TV and don't feel guilty about it. Are you listening? Binge whatever you're watching on Netflix and enjoy every moment of it.
Figure out what works for you, and then do it.
The key is to not get to the point where you need to escape and recharge. Taking a little time for yourself, each day, and practicing daily self care, will do wonders for your spirt and help you stay balanced.
You deserve to shine your bright light, not lose your sparkle!
Finding meaning each day,
Dara
Get a Free Gift When Purchasing "I am my Mother's Daughter"
EXCLUSIVE 21-Day Sharing Journal downloadable print
EXCLUSIVE 21-Day Mother Child Journal downloadable print
The 3 Types of Letters downloadable print
Write a Letter Template downloadable print
The Happiness Contract  downloadable print