Helping Breast Cancer Patients and Survivors
After Dara completed the year long treatment plan, she found herself being told, "Go back to living your life," but she didn't know how.
Dara realized she didn't know how to live anymore.
She had been through a lot, had changed and felt fearful and anxious. She needed to make peace with the fact that she had been diagnosed with breast cancer at age 42, deal with the fear, and move forward.
Dara worked hard to figure it all out, and now leads a special workshop designed just for breast cancer patients.
Her workshop, CRUSH CANCER, is intentionally designed to help breast cancer survivors and patients feel embowered to move forward, making the most out of the rest of their lives. It doesn't matter where a patient is in her treatment plan, Crush Cancer will help them move forward, wherever they are on their journey.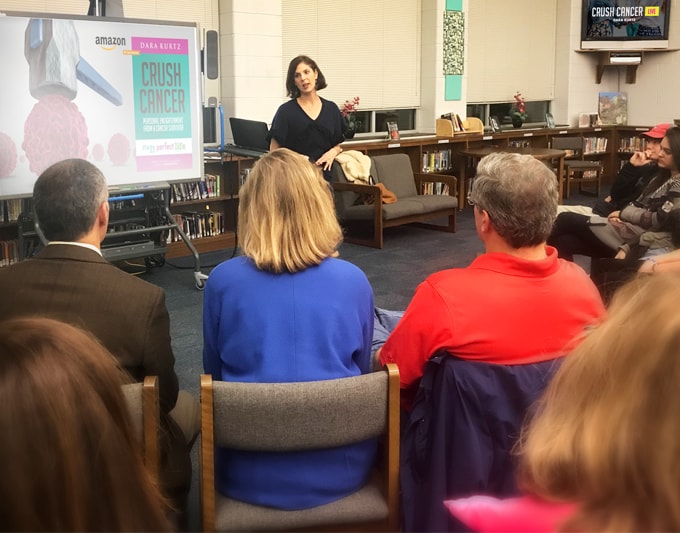 This 2.5 hour, interactive workshop, covers the following 6 modules:
Accepting a Cancer Diagnosis and What it Means for Your Future.
Becoming Mentally Strong, How to Handle Fear, Establishing A Mantra
Controlling What You Can Control Through Diet/Exercise
Establishing a Daily Self Care Practice
Finding Gratitude, Living with Joy, and Following Your Passions
Putting It All Together, Now What?
Handouts:
Participants will receive a handout containing notes/exercises on each module.
This will focus on empowering them and giving them tools to help them move forward.
There will be many opportunities for interaction among participants throughout the workshop.
"This is exactly what I needed when I completed my treatment plan. It would have given me the tools I needed to make peace with my diagnosis and move forward."

Contact Dara Kurtz:
dara@crazyperfectlife.com
336-926-8792
*Dara can modify the presentation to fit the time allotted for your event.